Regulation NSW
A new, world leading, digital platform that is transforming complaints, compliance and enforcement processes for NSW regulatory agencies.
Regulation NSW is a single integrated digital platform available to multiple NSW Government agencies for regulators to manage complaints, compliance and enforcement actions via streamlined processes.
Regulation NSW is delivered by the Complaints, Compliance and Enforcement (CCE) program and is part of the eRegulation strategy, a NSW strategy to create the world's easiest and secure digital regulatory experiences for customers.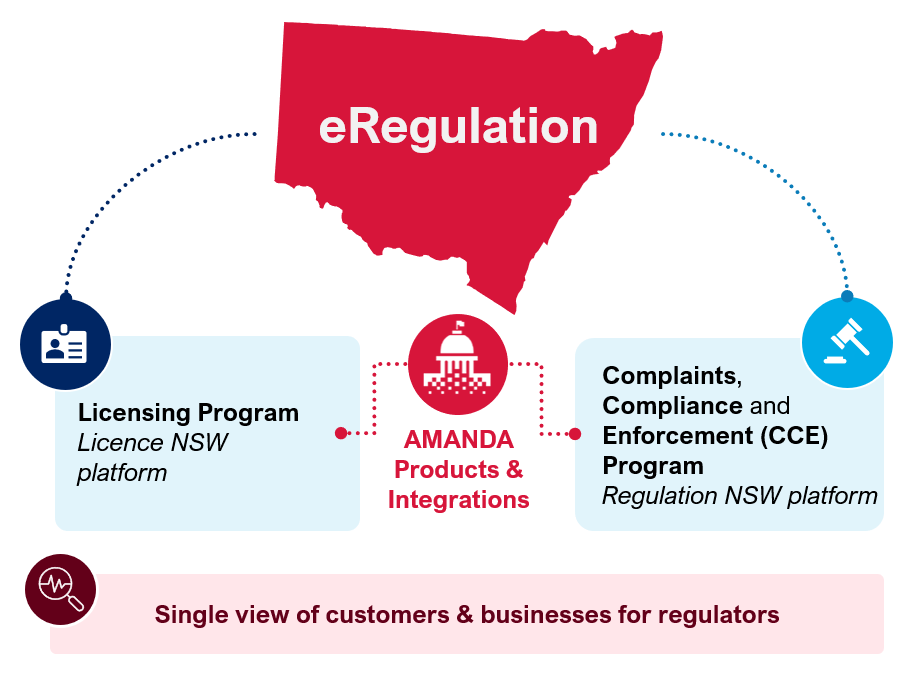 Regulation NSW is a State Digital Asset. State Digital Assets (SDA) are digital platforms, services or data that are used by more than one NSW Government agency. They are the building blocks for NSW to provide proactive, customised, and seamless services to our customers.
Regulation NSW provides the capability to use web based, or digital-device based, transactions for any legacy paper-based transaction. This can be delivered as an additional feature to our License and Compliance offering or as an independent product.
Businesses

Citizens

Regulators

Makes it easier for business to pro-actively comply ensuring easier compliance and saving time and effort - businesses in NSW waste $3.9billion per annum.

The Licence Manager initiative allows businesses to keep track of their compliance obligations, their employees and people they regularly do business with (e.g. subcontractors)

The CCE Program enables:

more reliable data that allows better informed decisions before engaging any business.

a higher level of protection and safety with a consistent interface to make complaints and raise concerns.

give citizens the peace of mind that the time they spent making a complaint was time well spent.

Enables significant capability uplift by shifting the resources currently assigned to processing and administration instead to investigations, enforcement and education activities.

The connection with the Licence NSW program will result in line-of-sight between licensed entities and any enforcement activity.

Agencies can have an end-to-end view of customers and businesses across the regulatory lifecycle and manage records through the platform.
License NSW and Regulation NSW platforms utilise the same enterprise solution, and when used together support experiences across the full regulatory landscape.
Resources