Our Vision
For NSW to become a world leader in cyber security
Protecting, growing and advancing our digital economy.
Cyber security is the responsibility of every business – big and small, and every citizen – young and old. It is critical to every industry in NSW and, at the same time, cyber security is an industry in and of itself; demonstrating an extensive ecosystem across academia, industry and government to drive innovative solutions in a fast-paced environment. As a result, cyber security sector has a dual role to play in the digital economy in both defending and protecting the economy, as well as underpinning its growth.
What our industry consultations have told us
As part of our consultation process, we reached out to over 90 industry organisations to understand their observations, ideas and suggestions to achieve our vision of becoming a world leader in cyber security.
Below is an outline of the key themes that we have heard from our industry consultations:
Low cyber security maturity
A low cyber maturity means a low barrier of entry to cyber disruption resulting in significant risk to the NSW economy. These combined factors have stimulated innovation in products and solutions that counter malicious activity and has led to the emergence of a burgeoning cyber security industry.
Evolving threat landscape
Now more than ever before, governments, private citizens and businesses are at risk from ongoing cyber security threats. The evolving nature of cyber security threats and increasing scale of threat actors means that the NSW government needs to increase its overall cyber resilience whilst ensuring there is an appropriate level of cyber risk mitigation to continue its digital innovation direction.
Need for sovereign capability
The learning from COVID-19 has also raised the attention on the risk of over-reliance on a single market and the risk of over-reliance on foreign suppliers
Expansion of cyber security market
Nationally, the market continues to grow. In 2019-20, it is estimated to contribute A$15.7 billion in revenue, employing 19,475 people. It is forecasted that almost 17,000 new jobs will be needed to 2026. As the largest economy in Australia, NSW will play a significant part in the creation of these new job placements and therefore needs to have an equal contribution to supply of this talent pipeline.
How this strategy will benefit government, industry and citizens
It is our vision for NSW to become a world leader in cyber security: protecting, growing and advancing our digital economy.
To become a world leader, we recognise that we are at the start of a journey to build the foundations to grow the ecosystem and cyber security workforce, provide viable commercialisation pathways, generate increased local demand for and supply of sovereign cyber security solutions and capabilities and continually improve cyber resiliency across industry and government.
As a result, we have 4 commitments that make up this strategy:
Collaboration between NSW government, citizens, industry and state and federal counterparts will be vital in achieving the outcomes of the strategy. This will result in the following benefits for NSW government, citizen, industry and state and federal counterparts:
Citizens
Increased assurance of security of citizen data
Privacy and information
Increased support for citizens in the event of identity theft
Increased resources for citizens to educate themselves on personal cyber security safety practices
NSW Government
More resilient systems and services as we continue digitising and transforming our technology to our customers
Industry
A strong cyber security ecosystem
A more diverse and robust workforce
Increased international competitiveness.
State and Federal Counterparts
Increased collaboration on national cyber initiatives
Greater threat sharing and situational awareness
Roles and Responsibilities of Government
We recognise that cyber security, privacy and resiliency are the inter-linked pillars of preventing cybercrime and enabling cyber safety for NSW Government, NSW citizens and the organisations and individuals that rely on our services. As a result, collaboration between these pillars is necessary to ensure that the objectives across cyber security, privacy and resiliency are met. The below diagram depicts the relationship between the NSW Government agencies responsible for these pillars: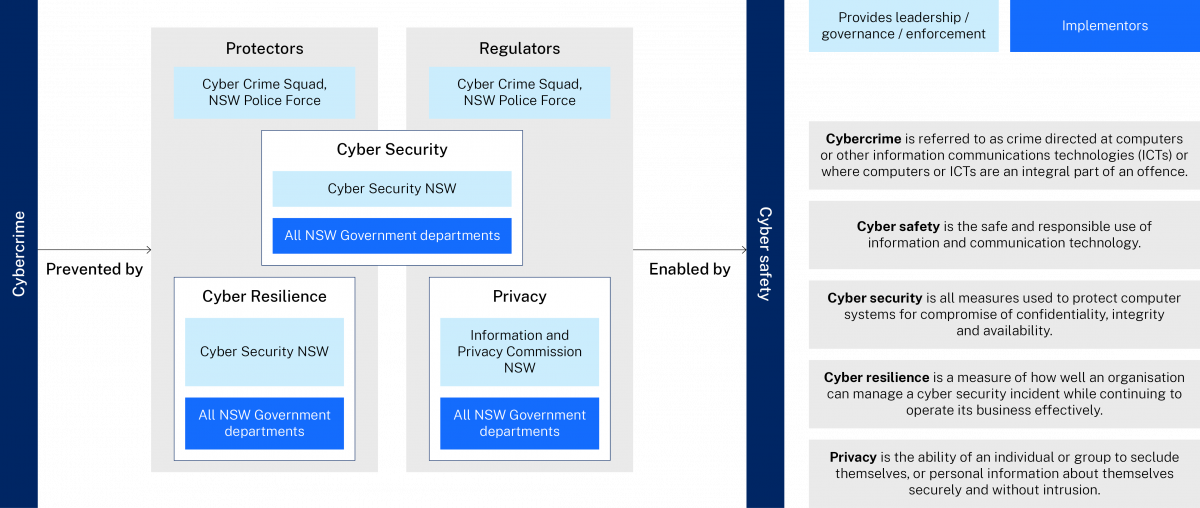 Cyber Security NSW will coordinate the efforts across NSW government and its agencies to ensure the commitments of the NSW Cyber Security Strategy meet NSW government's objectives across cyber security, privacy and resiliency. Furthermore, Investment NSW will coordinate efforts to build and strengthen NSW's cyber security industry.
Cyber Security NSW and Investment NSW will lead the following commitments with the support of relevant agencies as depicted below: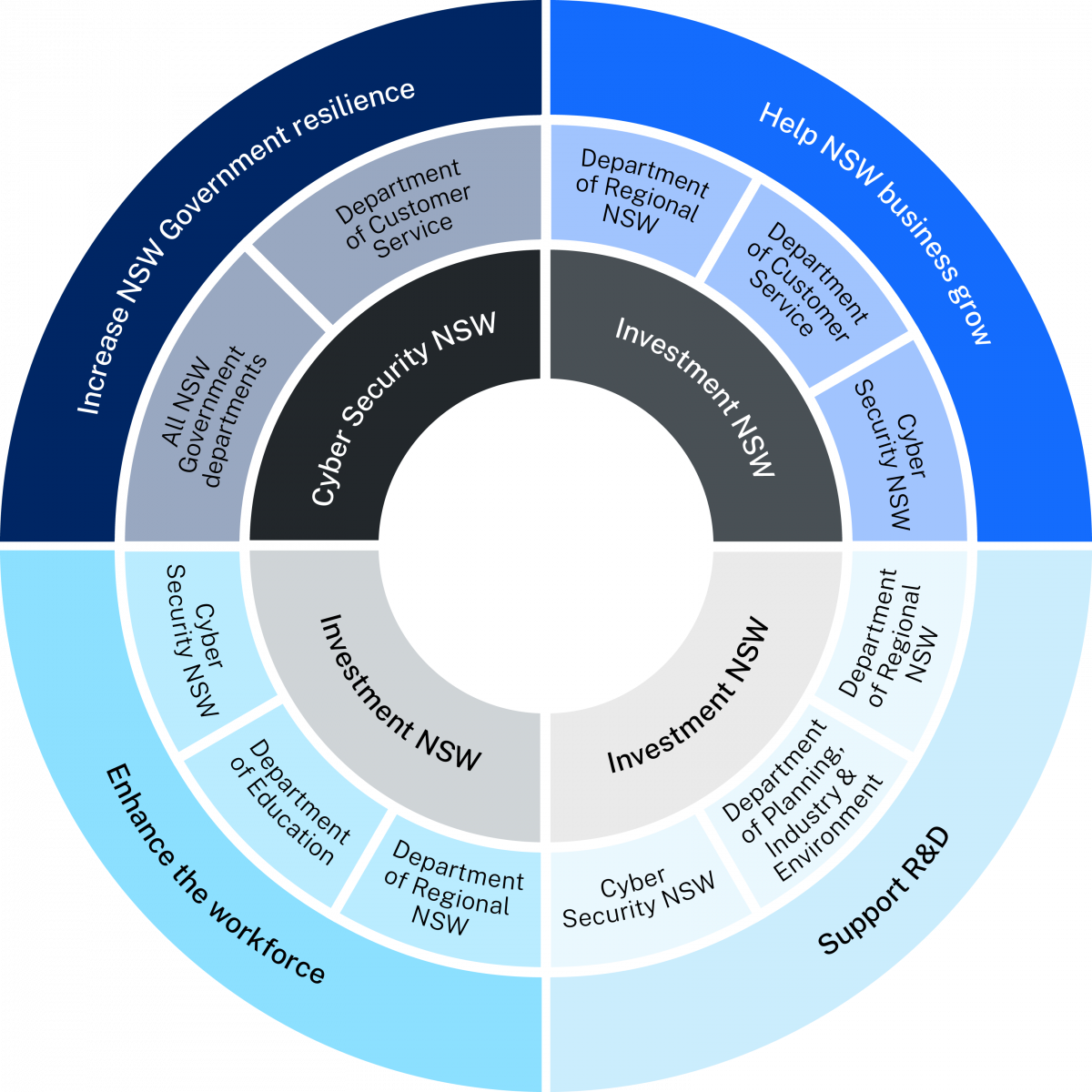 The role of the lead agency is to set the commitment objectives and focus areas for the strategy and provide central leadership and coordination of programs and initiatives under the commitment areas. Supporting agencies and organisations will collaborate with the lead agency to execute the programs and initiatives under the commitment areas.