Customer journey mapping
About customer journey maps
What is it?
A customer journey map is a visual story about the process by which a customer interacts with a business in order to achieve a goal.
Why use it
Use customer journey maps to give you insights into your customer's journey.
Focusing on a specific journey enables you to see where customers are getting frustrated, and where to focus on creating better user outcomes.
A customer journey map is the right tool if you know where you want to focus. To create a successful journey map, try not to assume or guess people's real-life experiences prior to the exercise.
When to use it
Research your users, or potential users in the discovery phase. Then create your customer journey map with the results.
Who should use it
Product owners, service designers, and user experience designers.
How to create a customer journey map
Step 1: Decide on your user
You need to define the user in your story. You should do this by using evidence from user research so the journey is realistic. For example:
what they were trying to do

their motivations

context before and after the interaction.
Do this in every iteration. Quantitative research is good, but you also need qualitative research. It will give you insights into how users think and feel through their journey.
Step 2: Choose the scenario
Define what you are going to map.
For example, a new café registering their business. Try to keep your user journey simple. Your map may cover the journey from the initial business plan through to registration and opening the business.
Make sure you define a clear goal for the user. For the café owner, the goal would be to register a business.
Step 3: Visualise the journey
Map your user's journey in a way that suits your team. It doesn't need to be a linear timeline. Represent the user's journey in swim lanes. Use visuals to communicate points on the journey.
Use Post-it notes on a wall or a marker on butcher's paper to show:
your user — age, background, thoughts, feelings, opinions, expectations and pain points

timeline — define the scope of the user's journey in their context

touchpoints — how they interact with your agency and various levels of government, at different points in the journey

emotions — how the user feels in the journey

channels — how they interact with your agency (this could include website, mobile app, call centre or shopfront)
Example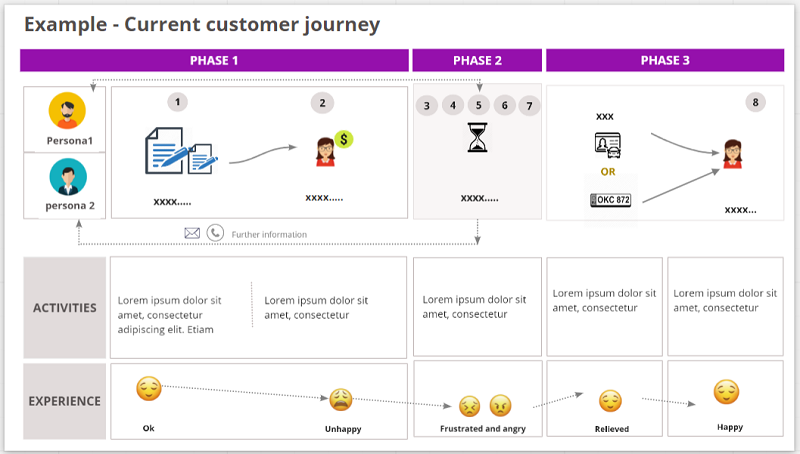 Step 4: Follow up
Display your journey map in a prominent spot so your team and stakeholders can see it.
Walk stakeholders through the journey. By sharing the journey, you encourage empathy for your users. Your stakeholders will also gain an understanding of the challenges users face.
Keep updating your map. It's a living artefact.
You can use your journey map to define scope and show how to solve problems. You can also use it to break down business area silos across a service. This will help to better understand the whole user experience.
Example