The metaverse today
Familiarity with the term 'metaverse'
According to an April-May 2022 survey by Ipsos for the World Economic Forum, over half of the 21,000 adults surveyed across 29 countries are 'familiar with' the metaverse (though the poll did not make clear what familiarity entails). Of those, familiarity was highest in Turkey (86%), India (80%), and China (73%). [43] The lowest was in Poland (27%), France (28%), and 'Belgium/Germany' (30%).
Familiarity of the enabling metaverse technologies is even higher, with 61% of the total surveyed adults familiar with AR and 80% with VR. [43] Emerging countries had higher interest in XR than high-income ones, with approximately two-thirds of adults surveyed from China, India, Peru, Saudi Arabia and Colombia 'feeling positive about engaging with XR'.
For Australia, the study shows 46% of the 1000 total Australians surveyed are familiar with the metaverse, compared to the global average of 52%. [43] VR familiarity was at 80%, on-par with the rest of the world at 80%. AR familiarity was at 51%, which was below the global familiarity at 61%. A total of 36% of the surveyed Australians had 'positive feelings about engaging with extended reality in their daily life' , compared to the global average (50%).
Participants were asked: 'How much do you agree or disagree that, over the next 10 years, the development of the following metaverse applications using extended reality will significantly change the way people live?'. The options and the average of Australian participants' responses were as follows, ordered by percentage of 'strongly' and 'somewhat agree' responses.
| Response option | % Strongly or somewhat agree |
| --- | --- |
| Virtual learning (e.g., learning, courses, attending school) | 65% |
| Digital health resources (e.g., virtual consultations, remote surgery) | 61% |
| Digital entertainment in virtual reality (e.g., movies, concerts) | 60% |
| Virtual socialisation (e.g., chats with friends/family, dates, meetups) | 59% |
| Virtual work settings (e.g., virtual collaboration, networking) | 58% |
| Virtual/enhanced gaming (e.g., virtual reality games, multiplayer tools) | 56% |
| Trading of digital assets (e.g., NFTs, collectibles, cryptocurrency) | 48% |
| Virtual travel and tourism (e.g., replicating the real world in virtual reality) | 44% |
Market and corporate investment
Estimates of the current (2022) 'metaverse market' value range anywhere from $10B to $1T. According to research conducted by Bloomberg in 2021, the value of the metaverse market is projected to grow to $783.3B USD in 2024, compared to its $478.7B USD value in 2020. [44] Grand View Research estimated the 'global metaverse market size' to be $38.854B in 2021, with an annual growth rate (CAGR) of 39.4% from 2022 to 2030. [45] McKinsey & Co. estimated that the 'value of the metaverse could reach $5T by 2030'. [16]
Some large technology companies have rebranded or developed products to cement their role in this market. Facebook rebranded itself as Meta Platforms Inc. in October 2021, to 'transition from . . . being a social media company to being a metaverse company' and to 'help bring the metaverse to life'. [46] NVIDIA developed the Omniverse; a 'real-time, cooperative design platform for in-game art and virtual worlds' to support metaverse creators and digital-twin development. [47]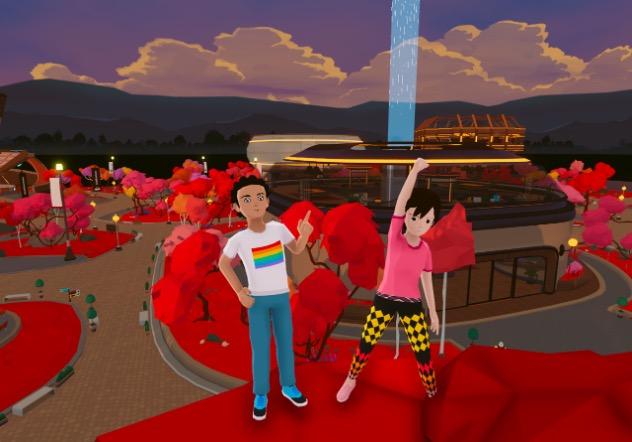 Other tech companies have undertaken acquisitions or partnerships to engage with the metaverse. Microsoft acquired the video game producer Activision Blizzard for $68.7B USD in January 2022 to 'provide building blocks for the metaverse' in game development. [48] Epic Games and WPP formed a partnership in May 2022 to 'deliver a new era of digital experiences for brands in the metaverse'. [49]
New companies are forming to capitalise on this emerging market. An example is Decentraland — the 'first decentralised metaverse that is built, governed, and owned by its users' — which opened to the public in February 2020 and it allows the public to purchase virtual land using ethereum as a currency. [50] Various companies have purchased 'real estate' in Decentraland, including Samsung, who created an 'immersive world' called Samsung 837X. [51]
Finally, the World Economic Forum, an international non-governmental lobbying organisation with 1000 member companies, also has a number of metaverse task groups underway. These groups aim to work towards an 'economically viable, accessible, and inclusive metaverse'. [53]
Government interest and adoption
A small number of governments and cities internationally are investing in metaverse strategies, however there are few details publicly available on exactly what these strategies contain.
In June 2022, the South Korean Ministry of ICT announced a 'pan-government strategy on metaverse' to 'become a leading global metaverse country', as part of their Digital New Deal 2.0 initiative. [54] They have earmarked 223.7B won total (equivalent to $250M AUD) for the initiative. [55] Their support strategies include nurturing companies specialised in the metaverse, establishing a 'Metaverse Academy' to train young developers and creators for capability in the metaverse, and creating regional hubs to encourage domestic metaverse service and platform development.
Part of South Korea's metaverse strategy is a suite of ethical principles and proposed regulatory procedures. According to their press release, these ethical principles will be 'voluntarily complied with by participants in the metaverse ecosystem to foster trust and safety'. [55] They will be establishing a government-wide metaverse committee to discuss the protection of personal information and intellectual property, and to determine regulation procedures for unethical and illegal activities in the metaverse. The specific principles and regulation procedures are not public as of June 2022.
In May 2022, Dubai's ruler Sheikh Hamdan bin Mohammed bin Rashid Al Maktoum launched a higher committee to prepare a 'Dubai Metaverse Strategy'. The goal is to 'transform Dubai into the world's best city in the world [sic] to live, work, and invest. The constant development of government services is vital to achieve this goal and ensure Dubai maintains high levels of global competitiveness'. [56] The aim of the strategy is to 'increase the contribution of the metaverse sector to the emirate's economy to $4 billion by 2030', and to '1% of the emirate's GDP'. [57] As part of the strategy, the committee aims to use 'metaverse technologies' to 'improve the performance of resident surgeons by 230%', 'increase the productivity of engineers by 30%', and 'support 42,000 jobs to become virtual'.
The Dubai Virtual Assets Regulatory Authority (VARA) is also developing a regulatory framework 'for financial entities to operate in the metaverse, including bank and state services'. [58] In early May 2022 it established a MetaverseHQ so that the 'Dubai government [can] extend its services and regulatory power to audiences in an open technological expanse, without constraints or borders' as part of its new 'prototype decentralised regulatory model' strategy. [59] The MetaverseHQ (also known as 'MetaHQ') will be based in The Sandbox virtual world. Although these regulations are unlikely to be delivered in 2022, the initial focus will be on 'younger licensees', development of an API to help integrate other state and regulatory structures into the metaverse and issuance of digital IDs. [58] The authorities are aware of the complexities, such as digital ID privacy concerns, the independent guidelines and security requirements of each state and the issue of enforcing regulation in a decentralised environment, however they are optimistic of the outcomes. As of July 2022 the details of the regulatory frameworks have not been made public.
In November 2021, the Government of Barbados signed an agreement with Decentraland to develop a Barbados Metaverse Embassy in the virtual world. The embassy 'will be an important forum . . . to deepen engagement in the diplomatic arena; the investment, business, tourism and cultural sectors; and people-to-people interaction'. [60] The details of the digital embassy's capabilities have not been made public, however the Barbados' Ambassador to the United Arab Emirates, H.E. Gabriel Abel, said that e-consular services and virtual teleporters will be core elements. The teleporters act as a 'common access point to all of the metaverses to foster meta-diplomacy'.
Some international cities have engaged in their own metaverse strategies too. The Shanghai Municipal Commission of Economy and Information Technology released a five-year plan in December 2021 that listed the metaverse as one of four avenues for developing the electronic information industry. [61] It recommended metaverse research for application in 'public services, business offices, social entertainment, industrial manufacturing, and production safety and electronic games', however specific timelines and goals for the research were not released. The Provincial Government of Jakarta is another example, where in April 2022 it established a strategic partnership with WIR Group (an AR company in Southeast Asia) to enhance its Jakarta Smart City initiative with the metaverse in mind. [62]
Commercially available metaverse hardware
The AR and VR headset market grew 92.1% over 2021, shipping over 11.2 million units, according to the IDC's Worldwide Quarterly Augmented and Virtual Reality Headset Tracker. [63] According to their projections, by the end of 2026 there will be over 50 million units shipped worldwide per year for the commercial and consumer market combined.
VR systems
Access to VR content does not necessarily require a headset — many VR videos are available for free on websites such as YouTube under 'YouTube VR' — but headsets provide a heightened sense of immersion when viewing VR and 3D content compared to using a 2D screen. [64], [65]
The first stereoscopes were introduced as early as the 1800s, allowing a person to view a pair of 2D image overlays as though they were in 3D and the first hand-held variety were the Brewster stereoscopes in 1849. [66], [67] The (widely-considered) first computer-connected head-mounted 3D display was created in 1968 by Ivan Sutherland and his students and the first interactive virtual reality experiences were released by video game companies in the 1990s by companies like Sega and Virtuality. [68], [69] Their popularity waned in the 2000s before the first Oculus Rift headset was presented to the public in 2012. [70]
The first modern head-mounted VR devices (HMDs) — such as Oculus Rift — were 'connected', i.e., they only functioned if they were attached by cables to an external computer. In other words, the bulk of the VR computation was done by the connected computer. Then in the mid-2010s emerged 'mobile' VR headsets such as Samsung Gear VR, Google Daydream View and Google Cardboard. These HMDs dispensed with external computer attachments in favour of housing smartphones to display VR-compatible content on their screens, converting the phone into a headset. This had the benefit of portability, as users could take their headsets with them, rather than be confined near a computer. These were succeeded by 'standalone' HMDs such as Oculus Go and Vive Focus, which required no external devices at all and had an embedded computer that could run VR applications. [72]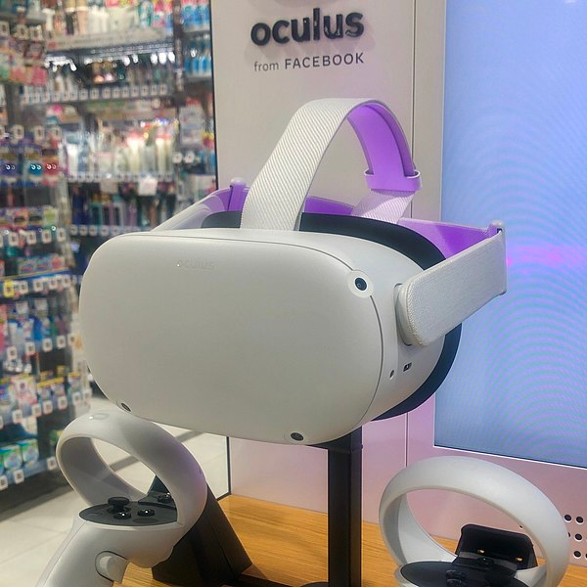 VR headsets are widely available to purchase today. Popularised headsets include the Quest series from Meta (who purchased Oculus in 2014), [73] HTC's Vive, Sony's Playstation VR, Samsung's Gear VR, and HP's Reverb. Some of these headsets come with accessories and configurations designed to improve the user's immersive experience, such as prescription lenses, [74] trackers to improve movement detection, [24] and controllers designed for specific games such as first-person shooters. [75]
Meta's Oculus 'Meta' Quest 2 headsets dominated the 2021 VR headset market at 80% of the total worldwide sales that year. [76] The remainder of the market share was split between DPVR (a VR headset company with primarily commercial clients), Pico, Valve, Sony, and smaller firms. The prices of the baseline commercial headsets — excluding accessories and upgrades — range anywhere from $15 AUD to $1000 AUD, however the self-functioning VR devices are usually $300+ AUD. [77]
AR systems
True AR systems are not yet common, although optical head mounted displays that project 2D information onto the user's field of view have existed commercially for some time.
Perhaps the best known example of these optical head mounted displays is Google Glass, originally launched by Google in 2013. This device, resembling a pair of wire-frame spectacles, augmented the user's perception to support their everyday activities, or even thrill-seeking activities such as skydiving and wall-scaling. [79] However it was expensive (retailing at $1500 USD), buggy, and received backlash over its privacy issues such as recording people without their consent. [80] The device — in this original form — was removed from the commercial market in 2015. [81] Google has announced a second Enterprise Edition version of Google Glass to improve workplace efficiency. [82]
Meta has partnered with Ray-Ban to produce head mounted displays called Ray-Ban Stories, with colour filters, video recording, and sharing features for the new social media age. [83] Other companies have contributed to the venture, such as Qualcomm who created a reference design for hardware markers to build AR glasses. [84]
One of the first commercially available 'true AR' headsets that did integrate its content into the user's surroundings was the Microsoft HoloLens, launched in 2016. The HoloLens is marketed mainly to enterprises and professionals, with potential applications in surgery, architecture, and construction. NASA's Jet Propulsion Laboratory reportedly uses the HoloLens to help explore the surface of Mars. [85]
Simpler augmented reality applications that rely on smartphones rather than headsets have had significant commercial success. Platforms such as Instagram, TikTok and Snapchat have integrated AR filters into their video creation tools to enhance the users' experiences and to encourage interconnectivity. According to Snapchat's CEO Evan Spiegel, '200 million people are using augmented reality every single day' via the Snapchat app. [87] Other platforms gamified AR, such as Niantic, who created Pokemon GO, an AR-based open-world roaming application for users to catch and grow Pokemon. [88]
Metaverse applications
Many applications marketed as 'metaverse' adopt similar play structures to massive multiplayer online (MMO) games. Some games have VR headset compatibility, others forgo the VR hardware and AR elements entirely and have users play on their desktops or smartphones. Some are designed for access by the public, others are designed for enterprise invitation-only meetings.
An example of a popular metaverse application is Horizon Worlds. Meta developed Horizon Worlds for their Meta Quest platform, [89] an open world 'social VR experience'. [90] Users create avatars of themselves to portray in this environment, and as avatars they can travel through these environments and interact with other players, chat and play games. The system uses spatial audio and tracks body movements to increase users' sense of immersion. It is not playable without use of a Quest VR headset, however Meta's chief technical officer Andrew Bosworth revealed on Twitter that a web version compatible with other hardware is in development. [91] This application was released to users aged 18 or older in the US and Canada in December 2021. [90] According to Meta's chief product officer Chris Cox, by 17 Feb 2022, Horizon Worlds had around 300,000 users, which was a 10x increase in three months. [92] As of June 2022 it contained more than 10,000 different worlds. [89]
Meta also developed Horizon Workrooms; invite-only VR rooms for work colleagues to have meetings and conferences. [93] It adopts similar immersion techniques to Horizon Worlds. Users are placed in a static meeting room environment whose layout and styling is configurable from a list of presets.
Microsoft released Mesh in November 2021, a mixed reality platform that 'allows people in different physical locations to join collaborative and shared holographic experiences'. [94] In combination with Microsoft's AltspaceVR social networking platform, users — in their personalised 3D avatar form, like in Horizon Worlds — can socialise with other members of the public. Microsoft trademarked an additional feature called 'Holoportation', which uses '3D capture technology to beam a lifelike image of a person into a virtual scene' without requiring an avatar substitute.
Microsoft also developed a meeting-specific version of Mesh called Mesh for Microsoft Teams, which behaves in a manner similar to Horizon Workrooms. It 'combines the mixed-reality capabilities of Microsoft Mesh . . . with the productivity tools of Microsoft Teams'. [95] Although Mesh for Microsoft Teams and Horizon Workrooms are not designed as open world social networking platforms that encourage societal interconnectivity (unlike Mesh and Horizon Worlds) they do aim to address the social and physical limitations of purely 2D virtual conferencing platforms such as Zoom. Additionally, even though Mesh for Microsoft Teams and Horizon Workrooms have been tailored for use with VR headsets, users can also dial into the meetings through their mobile phones, tablets, or any PCs that have the relevant applications installed. [96], [97]
The Sandbox is an example of an application claiming to be in the metaverse but that does not require XR headsets. Rather, users access this application through a traditional keyboard, mouse, and monitor setup. In this virtual world, 'players can build, own, and monetize their gaming experiences in the Ethereum blockchain'. [98] The goal of this platform is to 'provide creators with true ownership of their creations as non-fungible tokens (NFTs) and reward them for their participation in the ecosystem.' Like many online multiplayer games, The Sandbox has an in-world economy in which players can buy and sell in-game goods and services. There are several free 3D model and game development tools on offer that are compatible and endorsed by The Sandbox, such as VoxEdit and Game Maker. The Sandbox reportedly had 'over 30,000 monthly active users, about half of whom spend more than an hour per day in the metaverse' as of November 2021. [99]
Existing applications of the metaverse in the NSW Government
NSW Department of Education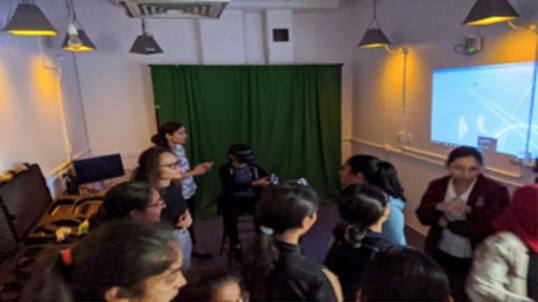 The NSW Department of Education (DoE) Information Technology Directorate has been exploring VR technologies for use in education, both as a teaching and learning tool. As part of its STEM Technology 4 Learning (stem.T4L) program, DoE provides support materials for teachers, students and schools to adapt VR or other emerging technologies into the classroom. [100] NSW teachers can borrow Handheld Virtual Reality (HhVR) kits for their classroom through the stem.T4L Learning Library platform. [101], [102] School engagements in the stem.T4L program have yielded positive outcomes for teachers and students over the three years since its inception, [103] however the quantified impacts of the HhVR kits and VR materials on this positive result are not publicly available.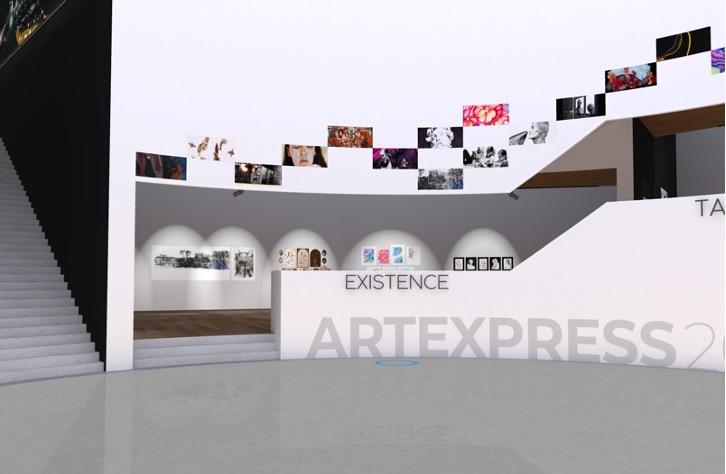 The NSW Government has also encouraged use of VR for art and design. The NSW DoE and the NSW Education Standards Authority created a VR gallery for ARTEXPRESS, an annual exhibition showcasing exemplary artwork by NSW HSC visual arts students. [105] Users can wander through the exhibition and peruse the artworks on the walls as though they are in a physical space. [106] Several schools have also adopted the stem.T4L VR kits to teach art in the classroom. An example is Blacktown Girls High School who implemented an after-school art program using VR, which a case study revealed improved students' understanding and appreciation of the possibilities of technology. [104], [107] Another example is the students at Merrylands High School who used the stem.T4L VR kit to build a virtual environment to showcase the 'site-specific artworks' that were created as part of the Kaldor Public Art Projects and DoE partnership program. [108] The app contains artworks from schools across NSW, and in 2020 was available to download through the Microsoft app store.
TAFE NSW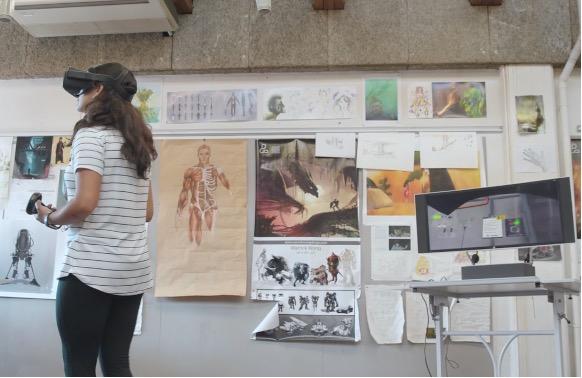 TAFE NSW have also been exploring how VR can be used to deliver and develop course content. Use of VR is 'supplementary to practical training' and an opportunity for students to experience their industry worksites before graduating into the workforce, which is 'better than being taught laws and regulations on paper'. [110] By June 2020, the TAFE Digital Lab had developed eight virtual and augmented reality application prototypes. These support different TAFE disciplines such as childcare, stage lighting, construction, plumbing, welding, and even training work, health and safety processes such as putting on protective equipment. TAFE NSW's research indicated that students who completed training in virtual reality had a 'combined learning outcome improvement of 64% on completing their practical assessment tasks in comparison to a traditional learning cohort'. [111] TAFE NSW was awarded the Learning Impact Award from the IMS Global Learning Consortium for its work in this field, and Meta provided them with 1000 VR headsets to support this program.
NSW Department of Health
VR has been integrated into some training for health professionals. The NSW Department of Health affiliated Agency for Clinical Innovation (ACI) created a VR training program for stroke treatment. Using VR allows 'staff to train in a realistic environment before they need to treat patients . . . in the real world. This is particularly valuable in high-risk scenarios, such as stroke'. [113] The training is 20 minutes long and has proven successful in rural and regional hospitals across NSW. TAFE NSW also partnered with NSW Health Pathology in 2020 to create a 'world-first' VR training simulation to 'expand and increase acute care point of care Testing capability'. [114] The training module is being piloted in a number of clinical sites across NSW and in December 2021 won the Australian Good Design Award. [115], [116]
Transport for NSW
Transport for NSW has made several investments in XR. Sydney Trains have developed a Track Augmented Reality View app for iOS that 'improves the current ways of identifying assets on-site' to 'ensure the safety of workers in the field'. [117] The application uses satellite navigation to locate assets, and allows workers to search, view and upload information about assets relevant to their operations. Transport for NSW, in partnership with the University of NSW, is also using VR to research how to integrate cycling facilities into urban and suburban environments without causing rider safety concerns. The goal is to 'evaluate possible design elements (i.e. facilities) for their acceptance by potential cyclists' and use that to determine necessary design interventions. [118] Internally, Transport for NSW recently purchased 20 VR headsets for its staff. The department has indicated that these headsets will be primarily used for video conferencing in Microsoft Teams.
---
[24] Vive. VIVE Tracker (3.0) | VIVE Australia. (2022).
[16] McKinsey & Co. Value creation in the metaverse. McKinsey & Company (2022).
[43] Ipsos. Enthusiasm for the metaverse and extended reality is highest in emerging countries. Ipsos (2022).
[44] Bloomberg Intelligence. Metaverse may be $800 billion market, next tech platform. Bloomberg Professional Services (2021).
[45] Grand View Research. Metaverse Market Size, Share & Trends Analysis Report By Product, By Platform, By Technology (Blockchain, Virtual Reality (VR) & Augmented Reality (AR), Mixed Reality (MR)), By Offering, By Application, By End Use, By Region, And Segment Forecasts, 2022 - 2030. (2022).
[46] Newton, C. MARK IN THE METAVERSE: Facebook's CEO on why the social network is becoming 'a metaverse company'. The Verge (2021).
[47] NVIDIA. NVIDIA Launches Omniverse for Developers: A Powerful and Collaborative Game Creation Environment. NVIDIA Newsroom (2022).
[48] Microsoft News Center. Microsoft to acquire Activision Blizzard to bring the joy and community of gaming to everyone, across every device. Microsoft (2022).
[49] WPP. WPP and Epic Games partner to accelerate innovation for clients in the metaverse | WPP. (2022).
[50] Decentraland. The gates to Decentraland have opened! Decentraland (2020).
[51] Samsung Newsroom U.S. Samsung Debuts New Fan Experience in the Metaverse with Samsung 837X. Here's How to Get In! Samsung US Newsroom (2022).
[52] Eibriel. English: This is a screenshot taken from the Decentraland web client, in the foreground two avatars are dancing, in the background part of the Genesis Plaza can be seen. (2022).
[53] World Economic Forum. The Metaverse. World Economic Forum.
[54] Ministry of Science and ICT. MSIT to announce pan-government strategy on metaverse. Ministry of Science and ICT (2022).
[55] Ministry of Science and ICT. The MSIT supports the creation of a metaverse ecosystem! Ministry of Science and ICT (2022).
[56] Oommen, A. Sheikh Mohammed launches higher committee to develop Dubai Metaverse Strategy in two months - Arabian Business. (2022).
[57] Oommen, A. Dubai's metaverse sector to support 42,000 virtual jobs and add $4 billion to its economy by 2030 - Arabian Business. (2022).
[58] Shazhaev, I. Dubai to put metaverse into a legal framework: Obstacles and forecasts - Arabian Business. Araban Business (2022).
[59] Zimwara, T. Dubai Virtual Assets Regulator Establishes HQ in the Metaverse. Bitcoin News (2022).
[60] Loop Business. Barbados to establish world's 1st Metaverse Embassy with Decentraland | Loop Barbados. Barbados Loop News (2021).
[61] Cheng, E. Shanghai doubles down on the metaverse by including it in a development plan. CNBC (2021).
[62] PT WIR Asia Tbk. Jakarta Provincial Government & WIR Group to Develop Jakarta Metaverse - PR Newswire APAC. PR Newswire Asia (2022).
[63] IDC. Worldwide Quarterly Augmented and Virtual Reality Headset Tracker. IDC: The premier global market intelligence company (2022).
[64] YouTube VR. YouTube VR Home. YouTube VR (2022).
[65] Tian, F., Hua, M., Zhang, W., Li, Y. & Yang, X. Emotional arousal in 2D versus 3D virtual reality environments. PLoS One 16, e0256211 (2021).
[66] Wheatstone, C. Contributions to the Physiology of Vision.—Part the First. On some remarkable, and hitherto unobserved, Phenomena of Binocular Vision. Philosophical Transactions 128, 371–394 (1838).
[67] Stafford, B. M., Teppak, F. & Poggi, I. Devices of wonder: from the world in a box to images on a screen. (Getty Research Institute, 2001).
[68] Sutherland, I. E. A head-mounted three dimensional display. in Proceedings of the December 9-11, 1968, fall joint computer conference, part I 757–764 (Association for Computing Machinery, 1968). doi:10.1145/1476589.1476686.
[69] Williams, K. The Virtual Arena – Blast from the Past: The VR-1. GMW3 (2020).
[70] Gilbert, B. Facebook just settled a $500 million lawsuit over virtual reality after a years-long battle — here's what's going on. Business Insider (2018).
[71] Le Conte Stevens, W. The Stereoscope: Its History - Fig 7. - Brewster's Stereoscope, 1849. in The Popular Science Monthly vol. 21 47 (New York, D. Appleton and Company, 1882).
[72] Paule, L. Standalone Virtual Reality headsets and their uses. Laval Virtual (2020).
[73] Facebook. Facebook to Acquire Oculus. Meta (2014).
[74] Meta. VirtuClear lens inserts for Quest 2. (2022).
[75] Sony Playstation. PlayStation VR Aim Controller | Control PS VR shooter games with incredible precision. Sony PlayStation (2022).
[76] Needham, M. AR/VR Headset Shipments Grew Dramatically in 2021, Thanks Largely to Meta's Strong Quest 2 Volumes, with Growth Forecast to Continue, According to IDC. IDC: The premier global market intelligence company (2022).
[77] Baker, T. How much is a VR headset? gamesradar (2022).
[78] KKPCW. 店頭展示中の「Oculus Quest 2」のサンプル。名古屋市の家電量販店で撮影。. (2020).
[79] Project Glass: Live Demo At Google I/O. (2012).
[80] Kelly, H. Google Glass users fight privacy fears. CNN Business (2013).
[81] Luckerson, V. Google Will Stop Selling Glass Next Week. Time (2015).
[82] Google. Glass. Glass (2022).
[83] Meta. Introducing Ray-Ban Stories: First-Generation Smart Glasses. Meta (2021).
[84] Qualcomm. Qualcomm Cuts the Cord with the New Wireless AR Smart Viewer Reference Design Powered by the Snapdragon XR2 Platform. Qualcomm (2022).
[85] Christian, B. Microsoft HoloLens in the real word: the companies using the headset. Wired UK (2017).
[86] Babir, C. & NASA. KSC-20160918-PH_CAB01_0056. (2016).
[87] Spiegel, E. SNAP INC. Q1 2021 TRANSCRIPT. (2021).
[88] Niantic Inc. Pokémon GO. Pokémon GO (2022).
[89] Meta Quest. Horizon Worlds | Virtual reality worlds and communities. (2022).
[90] Meta. Opening Horizon Worlds to Everyone 18+ in the US and Canada. Meta (2021).
[91] Boz [@boztank]. We're making good on our goal to ensure that developers have a path to real financial success on our platform. It's early days, there is still a lot of work to be done and we continue to partner closely with our creators and developers to enable them to earn meaningful revenue. Twitter (2022).
[92] Heath, A. Meta's social VR platform Horizon hits 300,000 users. The Verge (2022).
[93] Meta Quest. Workrooms | VR for business meetings. (2022).
[94] Langston, J. "You can actually feel like you're in the same place": Microsoft Mesh powers shared experiences in mixed reality. Innovation Stories (2021).
[95] Roach, J. Mesh for Microsoft Teams aims to make collaboration in the 'metaverse' personal and fun. Innovation Stories (2021).
[96] Mesh. Introducing Microsoft Mesh | Here can be anywhere. Microsoft (2022).
[97] Oculus blog. Introducing 'Horizon Workrooms': Remote Collaboration Reimagined. Meta Quest (2021).
[98] Sandbox, T. What is The Sandbox? The Sandbox (2020).
[99] Chevi, D. Softbank leads US$93m funding into NFT gaming firm The Sandbox. (2021).
[100] NSW Department of Education. About us. Technology 4 Learning (2022).
[101] NSW Department of Education. stem.T4L. Technology 4 Learning (2022).
[102] SharePoint Gurus. stem.T4L Learning Library. Sharepoint Gurus (2022).
[103] Izadinia, R. An overview of the research on the stem.T4L project: A three year journey. (2021).
[104] Izadinia, R. IVR as a tool to create digital art: The case study of Blacktown Girls High School's engagement with stem.T4L. (2021).
[105] The Arts Unit. ARTEXPRESS Virtual Gallery. NSW Government Arts Unit (2022).
[106] The Arts Unit. About. NSW Government - ARTEXPRESS (2022).
[107] Technology 4 Learning. Immersive Virtual Reality (IVR) for digital art. Technology 4 Learning (2021).
[108] When art and technology intersect in the hands of students. (2020).
[109] Arts Unit of NSW. ARTEXPRESS VR 2022. ARTEXPRESS (2022).
[110] TAFE NSW - Virtual Reality in Training: Evaluating Effectiveness & Efficacy. (2020).
[111] TAFE Digital. TAFE NSW recognised on global stage for proving effectiveness of VR training. (2020).
[112] NSW Government TAFE NSW. TAFE NSW - VR Experimentation. We Discover (2020).
[113] ACI. Using virtual reality to improve stroke treatment. Agency for Clinical Innovation (2021).
[114] Lee, G. & Hazzard, B. TAFE NSW develops virtual reality health training. (2020).
[115] NSW Health Pathology. World First Healthcare Technology - Virtual Reality Training. NSW Government Health Pathology (2020).
[116] NSW Health Pathology. NSW Health Pathology's FIRST Good Design Award. NSW Government Health Pathology (2021).
[117] Varayudej, M. & Nyugen, M. Asset Management Systems & Princip[les and the Development of Track AR View Application.
[118] Transport for NSW. Using Virtual-Reality Technology to Improve Cycleway Design. NSW Govenrent Transport for NSW (2022).