Hi. I'm Anne and I am a content designer for the Digital Service Toolkit.
The Digital Service Toolkit is the single source of truth for content designers working in teams developing products and services for our customers. I am part of a multidisciplinary team designed to steer digital teams through the delivery process with well-researched and reusable tools and resources. Our full suite of tools can be shared across government to help anyone deliver customer-focused products and services.
The role of content design in project delivery
The role of a content designer can be varied. On any given day, I may be working with a designer on the development of brand identity guidelines, with the strategy manager on standards, principles, and policy guidelines, walking the product manager through my recommendations for the latest Design System documentation, or liaising with content peers in the Digital.NSW community.
Whether you're a content designer just starting out in the public service, or a seasoned member of a multidisciplinary team within your agency, our teams' role is to ensure you have everything you need to build exceptional user experiences for the customers of NSW.
Much like the musical score in a movie, content designers set an essential and yet often subtle tone when building great user experiences - you need content design to build overall experiences that are clear and accessible, as well as transactions that are fast and easy to complete.
Putting the customer at the centre
Content designers in government ensure our products and services are meeting the needs of the customer at every step. Content design focuses on how research can be applied to inform the ways we find opportunities and solve user needs.
User research sessions help content designers build a more accurate persona of the people they're creating content for. An effective research session means facilitating an open and honest dialogue with the people who will use or experience a product or service. Research is not confined to research sessions. Try to capture any interactions you have (internal and external, formal and informal) as a chance to learn more about your users. Having this information can even arm you with the right questions for future user research.
Tools that make delivery faster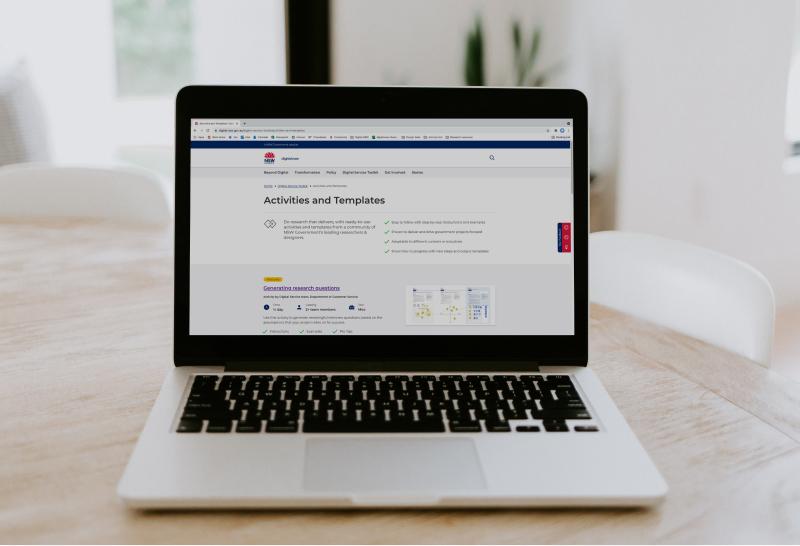 These are just some of the ways you can start accelerating delivery in your team:
Content style guide
Using the content style guide means we can ensure our content has consistency across our work.
People often read and interact with digital pages based on the way other sites have been designed so that element of repetition is important.Writing for inclusivity means recognising our work is for the whole community so make sure your writing structure and tone of voice is easy to read and follow.
Component library guidance
When designing pages for a user journey, you need to understand what layouts and formats work best for the user. Are they there to get information or to perform a task?
The component library in our Design System has well-researched, reusable components made specially to make a user experience better. Have a look at the components available to you when designing your pages and take time to read the guidance which was recently updated to reflect the best ways to use them on a page. The guidance and usage notes will also help you demonstrate their relevance to senior leaders beyond just visual appeal.
Design Standards
The Design Standards deliver best practice ways of working for a content designer in NSW Government. Each standard outlines a minimum requirement, as well as how to show the requirement has been met – providing an easier way to deliver quality work when you're juggling multiple projects with multiple skillsets.
Accessibility requirements
It is important that we can reach a wide and diverse audience and the best way to do that is to ensure all content is accessible to all people. Writing for the web requires knowledge in the accessibility space. If you're new to formatting your text for accessibility (or just want to use a reference for your work before publishing) our clear and simple accessibility resources are the best place to start.
Figma
Content itself is one of, if not the most important aspect of your design. I use Figma to help prototype with page text or micro-copy that's close to the final product. Working with the team on their Figma or code prototypes has meant we can help our designers build and test early prototypes which use content informed by real interactions.
This way, changes to the design will be minimised and you'll be able to get a good idea of what a near-finished product will look like. The content should inform the design, not vice versa. Getting in at the ground floor and contributing to early prototypes means we can use our own skills to design our product or services.
Get involved with the community
There are many content designers across NSW Government and it's always great to connect and learn from each other. Having your input and hearing your challenges helps us to focus the work we do to make sure the Digital Service Toolkit aids great content design in your agency.
If you work in content and are not sure where to start, you can join some of the conversations we're having in the content category of the NSW Government digital creators community.
We'd love to talk to you there!
If you have any questions, comments please email our team on digital@customerservice.nsw.gov.au or you can email me directly on anne.look@customerservice.nsw.gov.au