Making collaboration across functions a reality with the new NSW Digital & ICT Investment Strategy (DIIS)
20 Apr 2022
Digital Strategy, Investment and Assurance Team
In October 2021, The Expenditure Review Committee (ERC) endorsed a whole-of-government (WofG) ICT investment strategy. The scope of the strategy was to cover existing models for ICT and Digital investments, including the annual budget process and the Digital Restart Fund (DRF). Specific recommendations were also made to improve the prioritisation, assurance, and governance processes.
In this article, learn how the NSW ICT and Digital Investment team broke down the silos and boosted cross-functional collaboration to successfully develop the new strategy.
The first step: Collaborating with a small cross-departmental team
WofG Digital and ICT investment management is led by the Department of Customer Service (DPC) in cooperation with Treasury and Department of Premier and Cabinet (DPC). Jenny Merkley from Treasury NSW and Mark Howard, Executive Director Digital Strategy, Investment and Assurance, sponsored an initiative for a small cross-departmental project team to respond to ERC's request. This team was supported by using members of the DRF Working Group, to form a Steering Committee for the strategy's development.
Our goal was to provide the principles and practices to help investment decision makers assess digital and ICT investment bids across a range of pathways, including Treasury's annual budget, through DRF, and even within department budgets.
ERC required a response to inform the next budget, so the team had roughly 14 weeks to understand the problem, draft the strategy, consult widely with stakeholders, and submit through e-Cabinet. The team worked backwards from the deadline to co-design an approach covering the roles, rhythm, ceremonies, and tools that would help facilitate collaboration toward the goal.
Some collaboration highlights include:
Being curious, speaking openly and being respectful to work towards establishing a psychologically safe environment
Tools to help remote and asynchronous work:
MS Teams and SharePoint - meeting, chatting, sharing documents
Miro - gathering references, workshopping, sketching
Scrum ceremonies - building an inclusive rhythm and a productive working environment
Borrowing from the Digital Services Toolkit and treating this Strategy as a product prototype
Step 2: Planning our approach together
After looking at the Budget Papers, we established that ERC's request could be broken into 7 inter-related but separate components.
To develop a consensus, we workshopped a Product Vision using a template: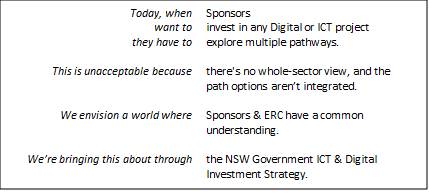 Then to prioritise our efforts, we set a Horizon 1 goal to 'Support TSY '22 Budget decisions'. This allowed us to initially focus on just 2 of the components from ERC's request:
Evaluate Investment Models, to get a sense of the options.
Draft the DIIS (Digital ICT Investment Strategy), to give us something to test with.
Our plans for testing, then became:
Map investments against the DIIS for at least 1 agency, to provide a baseline for comparison.
Align the plan for at least 1 department to the DIIS, to check for gaps and edge cases.
Step 3: Understanding the subject matter
The team then brainstormed existing references and potential sources of relevant information and set about collecting documents into SharePoint. Summaries and highlights were done individually, and added into our collaboration space in Miro, then discussed via Teams.
This secondary research gave us f insight into the successes and opportunities in the space. As a team, we had accumulated extensive 'lived experiences' of digital and ICT investment through DRF and the annual budget process. However, we were also aware of the limits and biases in our first-hand central government agency experiences. It was clear we needed to talk to a broader cross-section of stakeholders, including Sponsors, Analysts, CIOs and CFOs.
Step 4: Researching with stakeholders
We workshopped to gather an unfiltered list of potential stakeholder types and individuals. This list was categorised and grouped using a 'Stakeholder Onion' diagram, which helped us to understand the differences between core team, involved participants, Informed participants, end users (or consumers) of the product.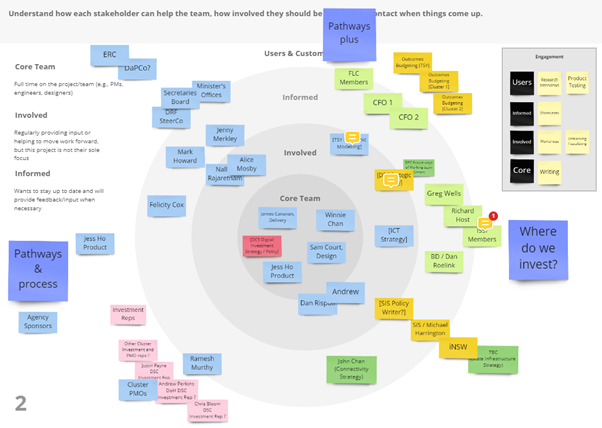 The map enabled us to plan and execute our stakeholder research:
What are the key questions we need answered?
Who can help us answer those questions?
Some initial themes that emerged from our research:
Governance was not well mapped to the type and size of the investment, especially for investing in improving customer-centric digital services
Assurance was over-focused on 'the what', rather than 'the how'
Assurance struggled to cater to diverse types of investment
Limited visibility of the whole government pipeline, making it difficult to see themes
Sponsors navigating multiple approaches in attempt to secure funding
Many varied and competing viewpoints about what makes a good investment
Inability to support the evolving needs of a project
Step 5: Co-designing the structure
With some research underway and more interviews and workshops planned, the team decided that one way to align on the scope of the DIIS was to co-design a Table of Contents (ToC). We also felt that a ToC could then enable us to work concurrently. We started sharing experiences of what made a 'good' strategy, looking for common structures, patterns, and themes. Good strategies have 3 key components:
A clear definition of the challenge; simplifying the complex by highlighting the critical aspects of the situation.
An overall approach to overcoming the obstacles within the challenge; guardrails to constrain actions in specific directions, without defining the actions themselves.
A coordinated set of coherent actions. Additional and alternative initiatives may also be undertaken, based on learnings from the planned actions, and guided by the overall approach.
With an overall structure established, and some themes emerging from the research, we were then able to develop a first draft of the ToC.
Step 6: Designing and testing the content
With a ToC drafted and agreed, the team were then able to 'divide and conquer.' Sections were sub-divided, and content was drafted using references, quotes, and insights from our research. It was important that we did not divide too early. With limited time, establishing early consensus with a 'good enough' ToC was key in avoiding tangents and rabbit-holes.
As the content came together, the team had 2 regular ceremonies to source early feedback from the 'Involved' stakeholders. In Content Clinics, we would workshop any potentially contentious aspects with a smaller group and take the time to go deep. While at the Showcases, we would present how the work had evolved to the Sponsors and other interested parties, taking questions and engaging people subsequently offline as needed. In this way, steering was a ceremony, and we were able to avoid last-minute surprises.
To drive early engagement and consultation from stakeholders more widely, we hosted a series of workshops around the 6 guiding principles that had emerged. These workshops primarily focused on 2 key groups: CIOs, and CFOs. The team got feedback on the themes, on whether each direction was likely to address the challenges, and whether fundamental gaps remained.
With consensus building around the overall approach, the team had gathered a lengthy list of ideas for actions that might remediate the issues within the approach. A model was designed to ensure that actions could be prioritised into a coherent and coordinated whole. And the model was also tested and refined through the stakeholder workshops.
Getting feedback throughout and being able to incorporate it in the design process meant that stakeholders would not be surprised by the DIIS submission through the 2-stage cabinet process.
The detailed content of the DIIS itself was developed in parallel. A single Editor was appointed to ensure the document components all came together with a unified voice.
Step 7: Refining and lodging the cabinet submission
The cabinet process is formal and requires 6 weeks to lodge. To further refine the content and ensure the submission had the best chance of success, we worked with the DCS Communications team. They then helped us work with the DCS Cabinet team to lodge the submission.
More showcases have also been held to update other stakeholders and interested individuals across various branches.