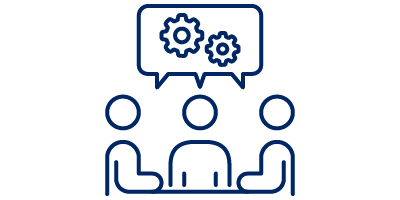 'When you are the employee just trying to do your job and the only thing that is disabling you is the technology, it is a horrible, horrible feeling to be put in that position. You just want to be able to do your job.'
— Accessibility NSW research participant
Suppliers provide evidence
Suppliers should provide evidence of how their digital products or services meet your pre-determined accessibility requirements (XLXS, 234KB). The evidence must be verifiable and should present consistent findings.
Suppliers are expected to provide evidence of how they've met the accessibility requirements in the response schedules.
Examples of evidence:
a recent (less than 18 months) Accessibility Conformance Report (ACR) using the relevant Voluntary Product Accessibility Template. Summarising the extent to which their products and services meet accessibility requirements
user manuals or help files (on request)
practical demonstrations of how the digital good or service delivers on the accessibility requirement (on request).
Evaluate evidence
We recommend creating an evaluation panel that includes users with disabilities and accessibility experts. People with disabilities and accessibility expertise can help you choose a product or service that everyone can use. Reach out to Accessibility NSW if you need assistance.
Tips for evaluation panels
Include an accessibility expert on the panel or;
have an external accessibility expert do an assessment
if you invite users with disabilities to the panel, help them feel safe and empowered. (Let them know what to expect, including that the product or service might not be accessible yet. Be transparent about what will be done with their feedback. They should be fairly compensated for their time).
Level of accessibility compliance
The product or service should meet the minimum level of accessibility compliance below. If not, consider a more accessible product or service. You can check the compliance using the ACR provided by the supplier.
Content, software, or web: compliant with Level AA of the latest Web Content Accessibility Guidelines (WCAG). The WCAG documents explain how to make web content more accessible to people with disabilities. It is part of the Australian accessibility standards.
Hardware: provides multiple ways to activate and operate the device (using sight, speech, or touch). If it is a kiosk, make sure it provides unobstructed forward or side reach of all physical control mechanisms or interface elements.
Supplier to demonstrate accessibility and usability
Ask a shortlist of suppliers to demonstrate that their product or service is accessible and usable. The demonstration is further evidence the product or service is usable, not just accessible.
Things to think about for the demonstration:
the demonstration should use the accessibility features and assistive technologies found on both Apple and Microsoft devices used by your department
supplier includes users with a range of abilities, to get feedback on accessibility and usability. The supplier could invite users and/or you could invite employees or customers
if you are inviting users to attend demonstrations, help them feel safe and empowered. Let them know what to expect, including that the product or service might not be accessible yet. Be transparent about decision making. Users should be fairly compensated for their time.
Compare the evidence
Use the evidence provided by the suppliers to assess and compare the accessibility of the products and services. This evaluation guidance has examples of poor, fair and good supplier responses.
Assess responses to accessibility requirements
Assess the ACR
Evaluate the suppliers' practical demonstrations.
Cross-compare the evidence to determine which supplier meets the requirements.
'I have been advised that screen readers don't work with this platform which means not everyone is able to participate. And this also means that those who use screen readers are not only removed from this collaboration but are made to feel bad for not contributing.'
— Accessibility NSW research participant
Select a product or service
It is likely that none of the products or services meet all the accessibility requirements.
Select:
the most accessible product or service
the product or service preferred by users with disabilities
a supplier who is willing to commit to an accessibility roadmap to fix accessibility issues, and provide equally effective access for users in the meantime
Test accessibility
Products, services, and assistive technology are often updated. It is important that product owners test the accessibility of the product or service regularly.
Manual and automated accessibility testing can also validate a supplier's accessibility claims. It is important to test suppliers' prototypes and new versions of a product. If you need technical support with testing, complete the accessibility requests form.
Accessibility roadmap
If there are accessibility issues, contract managers should work with the supplier to develop an accessibility roadmap to provide alternative, equally effective access for users.
The roadmap should include:
accessibility issues and priorities
when accessibility issues will be fixed
whether the fixes will require modification, customisation, or configuration.
workaround plans to give users effective access in the meantime.
upcoming releases of new product versions.
If the supplier doesn't already have a roadmap, ask them to make one.
Finalise contracts
When finalising your contracts, include the following:
Don't forget to inform any users you tested with or included within your evaluation panel what was selected and why.
Manage accessibility issues
Accessibility responsibilities continue through the life of the product. Products owners should regularly test their product or service. This will ensure any new or remaining accessibility issues are caught and resolved.
There should also be a way for users to give feedback.
If new accessibility issues are found, suppliers should add them to the roadmap and provide equally effective access for all users.
Templates
These templates can assist you in purchasing accessible products and services: