Virtual Contact Centre
A single, cloud based whole-of-government platform available 24hrs a day, 7 days a week to meet the needs of NSW citizens.
The Government Technology Platforms (GTP) Virtual Contact Centre (VCC) platform provides a whole of government contact centre that leverages the global expertise of our platform partner, Genesys.
The Genesys software is one of the world's leading cloud virtual contact centre platforms and our teams are experts at building services that are integrated, secure and scalable.
Outcomes and Benefits
4,800 agents in call centres around NSW

Over 11m calls in 2022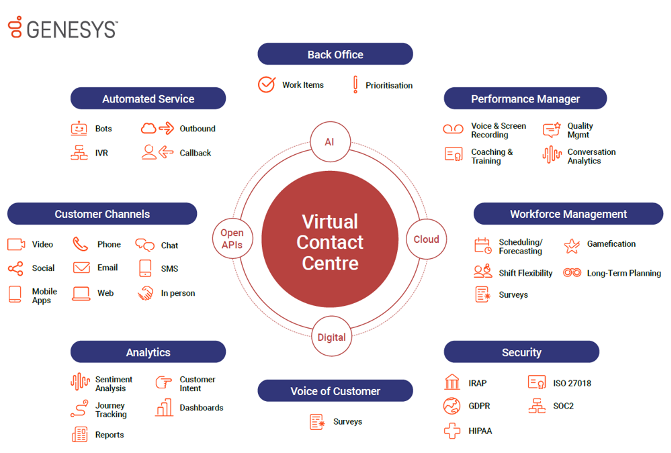 Together GTP, in partnership with Genesys, provides a service which is:
Scalable and highly available

VCC gives NSW State Government a highly available platform (24 hours a day, 7 days a week) providing NSW citizens the ability to interact with government across multiple voice and digital channels. The platform also provides capabilities to grow the number and type of services provided.

Integrated and efficient

Our platform makes full use of available technologies to make sure interactions are efficient. VCC uses leading Customer Relationship Management technologies.

Customer centred

The Genesys Cloud platform includes a thin client agent interface which optimises customer connections and accessed through a secure internet connection. Other features include supervisor tools, omni-channel interaction routing, outbound campaigns and scripting.
"With our agile Genesys Cloud CX solution, it was pretty easy to add a COVID hotline and rapidly scale up as calls peaked from around 2,000 to 25,000 over a single weekend." Sue Ferguson
Director of Contact Centres
Who uses VCC?
| | |
| --- | --- |
| Service NSW | Revenue NSW |
| Better Regulation Division (BRD) | State Insurance Regulation Authority (SIRA) |
| SafeWork | DCS (corporate) |
| icare | Parts of Transport for NSW including 131 500 |
| Central Coast Council |   |
Can VCC take secure payments?
Working with our partners and Service NSW we have designed a secure payments solution that allows customers to enter their card details, while remaining on a call with the agent to guide them through the payment process, without exposing the card details to the agent or storing any sensitive information on any Government systems.
An end-to-end secure solution that integrates with Customer Payments Platform and allows for full masking of any customer data which is not hosted within the environment.