Document
Discussion guide template
Create a discussion guide for use in research interviews.
Time


30+ mins

Casting


1+ team members

Tool


Word
---
Use for: Structuring your research interview  
When: Ahead of research sessions 
With: User research lead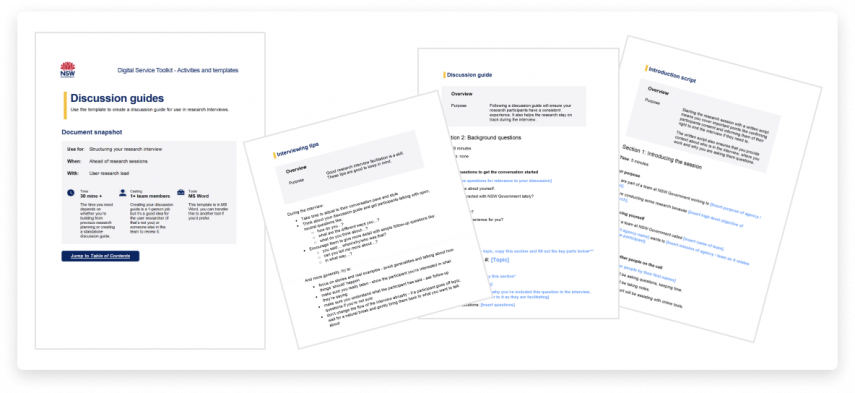 Document guide
Running a user interview is much easier with a discussion guide to refer to. Discussion guides provide the interviewer with a reminder of the key questions, and a structure to make sure nothing is missed during the interview.

This  template  will help save time drafting a discussion guide specific to your team and project. It provides a suggested format that covers the basics of running a user interview. 
What's it for
Efficiently producing a structured discussion guide for research interviews (instead of starting from scratch).
What you'll get
A simple discussion guide template you can adapt and re-use for all your research interviews.
When to do it
This template can help you prepare before your research sessions.
---
How it works
Before you start
Identify your objective in running research interview sessions.
Have your list of key research questions and assumptions.
Set a time limit for each session (generally between 30 and 90 minutes).
Step 1: List out and order the main topics of your interview
Step 2: Insert your questions for each topic
Step 3: Write instructions for any user activities
Step 4: Write questions that invite reflection
Step 5: Test your discussion guide with a colleague
Step 6: Write a brief introduction script for the interview to give your participants important context and information
What's next
Run your interviews.
Check in with your team after the first 1-2 interviews and fix any critical issues you've noticed in your discussion guide.
---
This template is contributed by the OneCX team, Department of Customer Service.