Presentation
Project update
Keep your stakeholders informed and engaged with regular updates, using this simple presentation template.
Presentation Time


30-45 mins

Preparation Time


¼ day

Casting


1+ team members

Tool


PowerPoint
---
Use for: Keeping projects moving
When: Regularly
With: Your team and key stakeholders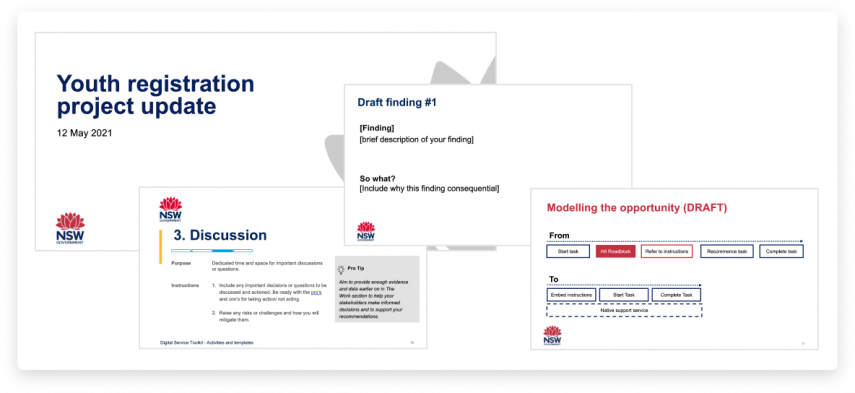 Presentation guide
Stakeholders are well-placed to guide projects, solve problems and endorse decisions. By regularly sharing project progress and challenges, you will get the most out of stakeholders and keep your project on track.
What's it for
For keeping stakeholders informed and engaged - and keeping your team accountable for delivering work that's been planned.
What you'll get
Stakeholder endorsement for the decisions and actions being made along the way, and support on critical issues.
When to do it
Set a regular meeting with stakeholders at the start of the project, with enough time between meetings to make meaningful progress as a project team. As a guide, agile teams tend to favour fortnightly updates.
---
How it works
Before you start
Identify your stakeholders.
Send out project update meeting invitations.
Gather your key achievements, actions, learnings and artefacts.
Step 1: Identify key information to share in the project update
Step 2: Fill in the project update template
Step 3: Hold your project update meeting
What's next
Address any feedback from stakeholders.
Take action on your next steps.
---
This presentation template is contributed by the Digital Service team, Department of Customer Service.