Activity
Synthesising research interviews
Build a collective understanding of what you've learned from interviews (and where it could take you).
Time


1/2+ day

Casting


Research team

Tool


Miro
---
Use for: Making sense of research findings 
When: A round of interviews is complete 
With: Everyone involved in interviews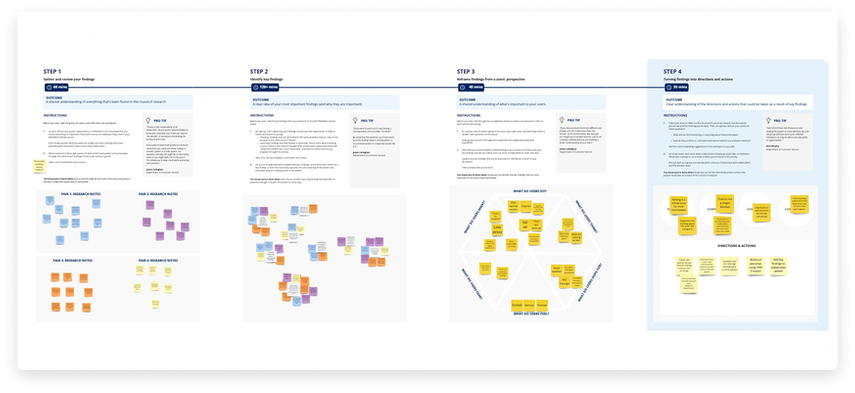 Activity guide
Research interviews produce A LOT of findings, many of which mean different things to different people.

This activity helps you organise your findings (and your thinking) by framing and reframing what you've learned as a group.
What's it for
Processing research findings and organising them in a meaningful and consequential way.
What you'll get
A shared understanding of what was learned through the interviews, and the different directions those learnings could take you in.
When to do it
After completing each round of research interviews.
---
How it works
Before you start this activity
Complete your round of research interviews 

Finish writing up notes from the interviews
Step 1: Gather and review your findings
Step 2: Identify key findings
Step 3: Reframe findings from a user's perspective
Step 4: Turn findings into directions and actions
What's next
Check in with stakeholders and share initial findings (and possible directions)

Start defining the opportunities the research has uncovered
---
This activity was contributed by Angela Zinn, CXU Life Journeys Program, Department of Customer Service.