5 minutes with Lenka Bradovkova, Executive Director Identity.NSW
20 Oct 2022
Can you tell us about your organisation and its purpose?
The Digital Identity and Verifiable credentials (DIVC) program emerged from the NSW government's vision to deliver a world leading digital identity solution for the people of NSW. Our vision is to build a convenient, secure and private digital identity solution for our customers across NSW, supported by a trusted technology foundation and legislative framework.
The DIVC program, formally launched in January 2022, with funding of $16 million enabling delivery of the Horizon 1 phase. The program aims to establish the foundational elements for NSW customers to validate and share their identity and credentials digitally, including both credentials issued by NSW Government and credentials issued by the private sector. It will also provide the policy and legislative framework for NSW Government entities to effectively use and support customers' digital identity and credentials.
The upcoming months present an exciting period for the program, gathering momentum to launch the multiple pilots that deliver the Horizon 1 Road Map.
The future for the program looks bright indeed, with approval of funding for scaling of our pilots in Horizon 2, to kick off in 2023. This phase envisions delivery of even more NSW Government services; integration with private sector and Commonwealth; development of the credential framework.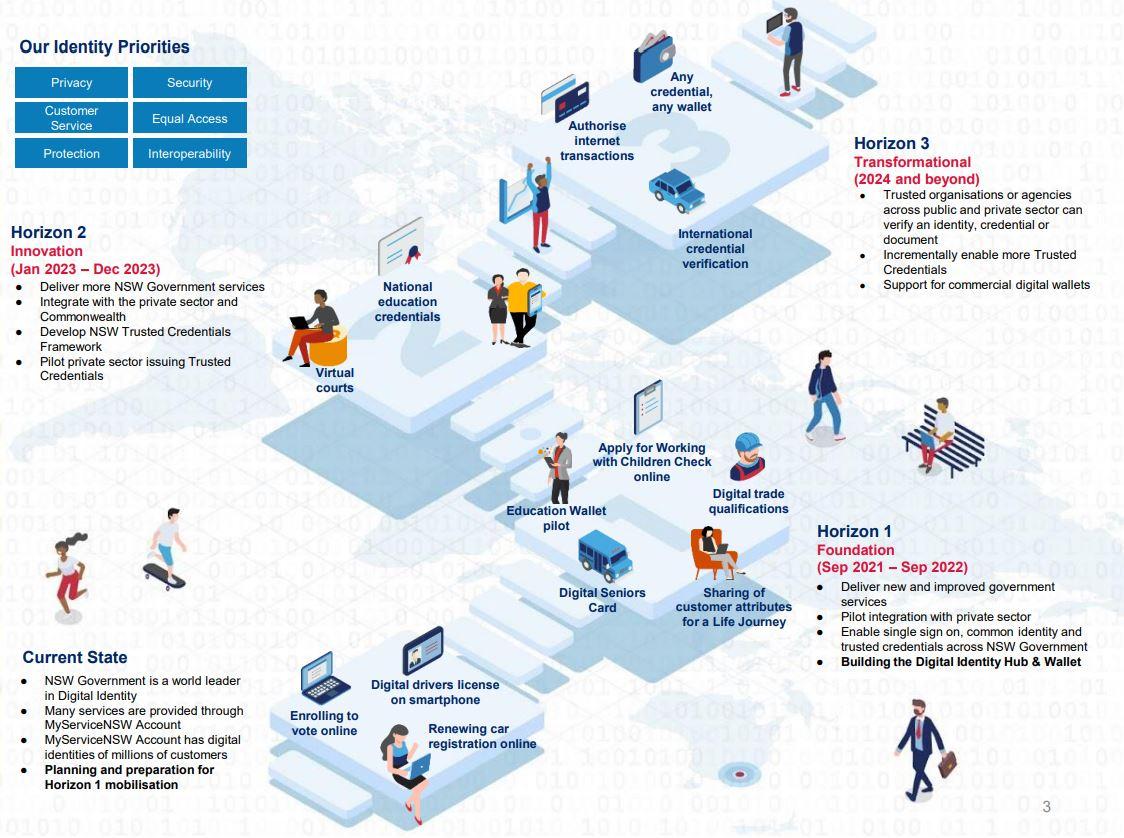 Our purpose is to:
Build a trusted, safe and secure customer experience that allows customer to prove who they are online, while minimising the amount of private information they have to share, this in turn will:
Revolutionise the way customers engage with digital services
Set strong security and privacy foundations
Be a key driver of productivity by enabling social and economic reform fit for the digital age we live in
Who are your key customers?
It is generally time consuming, burdensome and costly for customers to prove their identity and eligibility for services. Businesses, other organisations and government often rely on inefficient non-digital processes to enable transactions. Digital identity and credential exchange will transform customer experience in NSW and unlock substantial productivity benefits across the economy, as well as improve access to services on a scale incomparable to most other service reform opportunities.
Given this context, our key customers are wide-ranging and encompass NSW citizens, NSW government agencies, NSW businesses, institutions and community organisations.
NSW citizens will benefit from a step change in customer experience. Digital credentials will allow them to access services faster and with less effort by removing the need to deal with paper or in person verification of eligibility.
NSW businesses, institutions and community organisations will benefit from the NSW Digital Identity Hub and associated ecosystem. Establishment of the state digital asset will create cost saving opportunities and consistent customer experience, through increasing agency's use of 'Core and Common' ICT components for issuing, revoking, and sharing of credentials.
NSW government will benefit through uplift of capability in areas such as fraud and identity compromise prevention, enhancements in uptake and scale of digital services and cyber security coordination.
What are you most proud of this year?
I am proud of two significant achievements for 2022, given it's only the first year of shaping this transformational program.
The first is the establishment of the freshly minted DIVC team. The dream team is positioned within Digital.NSW and comprises 5 key streams including Program Management, Trust Assurance, Product Delivery, Legislation and Policy and Engagement and Partnerships. Each stream is critical in building the ecosystem that will offer a secure solution that is customer driven and founded on consent.
The second is that we are on track to realise the vision for Horizon 1 delivery. I am proud that the team has continued to progress, overcoming the challenges that come with pioneering a world leading program. I am excited that in the new year, we are set to steam ahead into the next innovative phase that is Horizon 2.
What are your headwinds?
Given the potential of this program to yield transformational customer benefits, consistency in the way identity and credentials are proven, stored and shared is critical to the strength of the program and the NSW economy as a whole. Building this ecosystem in a robust, scalable and sustainable way requires investment in the right capability, forging of partnerships and adequate time and funding.
Most visited App?
Unsurprisingly Outlook… closely followed by LinkedIn, AFR and Reuters, to keep up with the relentless news feed.
But to switch off, I enjoy Wordle and Bored Panda for their quirky design ideas and sarcastic memes.
On weekends, I enjoy
Playing beach volleyball or swimming if the weather permits, and if not, a sauna will do the trick on a cold rainy afternoon.